Pattern Source
Teddy has raised two wonderful cats, Midi and Isis. Because this will be Teddy's quilt, I wanted to make sure to immortalize his cats. I asked him how the cats should be depicted, and he suggested making them into a yin-yang symbol. I spent several hours drafting the design, and this is the result!
Midi is a Russian Blue, so I found a nice gray fabric that is nearly identical to her color, down to the gentle variation in color (evident in Midi when the light hits her fur). Isis, being a calico, was much more complicated. Teddy wanted me to use a patchwork of different fabrics to convey he calico-ness. Thus, Isis is made up of 30 separate pieces, each added by hand! It took forever, but I think the result was worth it.
Here is detail of the cats' faces.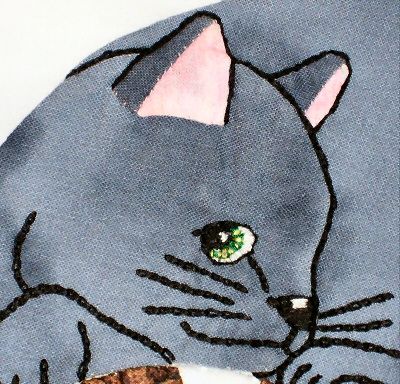 Midi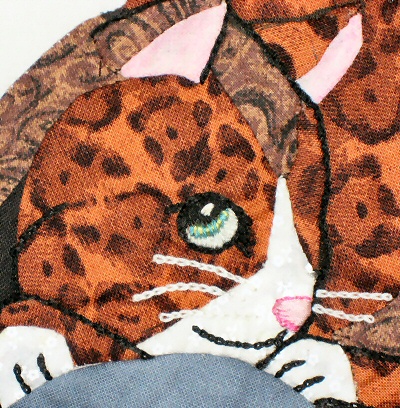 Isis
---
Block Title
Even though they were raised together since kittenhood, and even though each is a most wonderful cat in her own right, Midi and Isis simply do not get along. This represents the cats entangled in a cat fight, just about the only time they have contact with each other!
---
This Leg of the Journey – Completed November 2007
I loved working on this block, seeing Teddy's cats' personalities emerge as I finished the block.
---
Lesson Learned
If your quilt will be a gift for someone else, find out what they might like included. I would never have come up with the yin-yang concept!