Beaded Dragonfly (3-inch)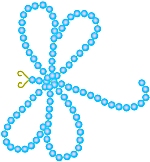 Notes: You can make the dragonfly smaller or larger by using shorter or longer lengths of wire. You can use beads in any color or combination of colors. If you use large beads to make a large dragonfly, use heavier-gauge wire.

Supplies and Tools

Instructions

1. String an even number of beads on one of the wing wires, leaving about 1 inch bare at each end.

2. Make a circle with the beaded wire and thread the ends through the first bead of the opposite side. Leave a small amount of slack. Wrap the wire ends around the wire between the first and second beads a couple of times and trim excess. You now have a circle of beads that is about 2 inches in diameter.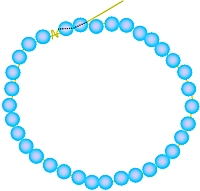 3. Make a figure-8 with each beaded circle, making sure the sides are even. Twist twice in the middle to secure. Note: Make sure the cross-over area is where you secured the ends of the beaded circle.

4. Repeat steps 1 through 3 for the other set of wings. Set aside.

5. Fold the body wire in half, leaving a slight loop in the folded end.

6. String 1/2 inch of beads onto the doubled wire, making sure to leave the loop open.

7. Fold the antennae wire in half and thread through the loop on the beaded body. Make small spirals in the end of each antenna.

8. Slide the beads on the body up to close the loop by the antennae, securing the antennae in place.

9. Slide the two sets of wings between the two body wires snugly against the beads and wrap the body wires around the wings once to secure.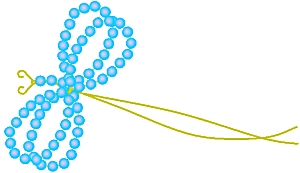 10. Continue stringing beads onto the body wire, leaving about 1 inch bare at the end. Tighten the beads on the body to make sure everything is secure.

11. Wrap wire ends around the wire between the last and second-last beads several times. Trim ends.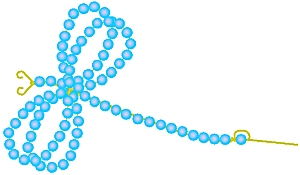 12. Adjust the wings, antennae, and body to suit your taste.

Glue or sew onto cards or other projects.

The dragonfly below was made with very small Swarovski crystals and 32-gauge wire.