Many happy Mirkwood Designs templates users have asked how they can help support my Web site. You can securely use your PayPal account or any major credit card. If you cannot make a monetary donation, I would appreciate your prayers. I thank you for your consideration, and may God bless you!

If you are not comfortable donating online, please click here for my snailmail address.
Polymer Clay Medallions
My son Teddy (when he was the ripe old age of nine) had a project to do for school. He needed to make something to "sell" in a mini-society for Social Studies class. He is as obsessed with crafts as I am, and he decided to make polymer clay beads. When my new Celtic stamps came in, he thought it would be neat to use them to stamp into the clay, making medallions. The results were stunning, as you can see for yourself!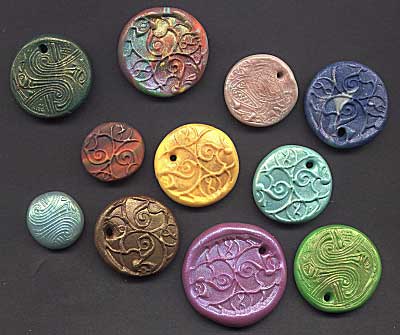 The largest is 1.25 inches in diameter, the smallest is .75 inches.
Supplies
Polymer clay in your choice of colors (Teddy used Sculpey III)
Rubber stamps (Teddy used my Celtic stamps C102, C104, and C105)
Oven or toaster oven
Optional: Pearl-Ex (Teddy used several different colors)
Optional: Pin back
Optional: Cord for use as a necklace
Optional: Earring backs
Instructions
Take a small amount of clay and "condition" it by kneading it to make it good and soft.
Roll it into a ball about 1/2 inch in diameter. (If making earrings, the ball should be the size of a pea.)
Place the ball on top of the rubber stamp and squash it with something flat (Teddy used the top of the Pearl-Ex jar) until it is about 1/4 inch thick (a bit thinner if making earrings).
Remove the clay from the stamp.
If you want to hang your medallion from a cord, use a toothpick to pole a hole in it.
If desired, use Pearl-Ex to highlight the design.
Bake the clay in the oven according to directions on the package, and allow to cool.
Attach cord, pin back, or earring backs.
Note: My sister makes polymer clay pins, too, and she recommends wrapping a bit of clay around a penny to give it weight, then stamping, enhancing, and baking. She uses these as embellishments on cards, and encloses a pin back so the recipient can make his or her own pin.
Copyright 1999-2009 Mirkwood Designs, a division of ruthannzaroff.com
These templates are free for your use to make craft items to give or sell, to use for teaching purposes, or for submitting projects to magazines.
I would appreciate it if you provide a link to my Web site.
The templates themselves may NOT be auctioned, sold, or published in any way without my permission.