Pattern Source
This is my original design. The red frame was cut following directions in Elly Sienkiewicz's various books, and the building was designed using a photograph of the Old Township Hall in Belleville, Michigan, which is now the Belleville Historical Museum.
---
Block Title
I thought that "Belleville" was the most appropriate title.
---
This Leg of the Journey – Completed March 2006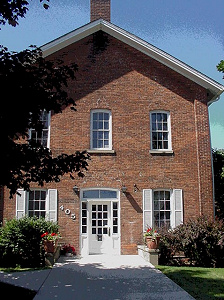 I knew I wanted to make a Belleville-specific block for my quilt, and there are a few interesting historical buildings in Belleville. The Old Township Hall, pictured at left, is probably my favorite.
Coincidentally, the day I finished this block I also visited a quilt exhibit sponsored by the Western Wayne County Quilt Guild held here. I had heard of the WWCQG before—they've done some great group projects, most recently a fabulous quilt celebrating the centennial of the City of Belleville. I'm now thinking of joining the Guild, even though I'm such a neophyte! I figure that there is a lot I can learn by being around other experienced quilters.
---
Lesson Learned
Before you begin stitching a block in earnest, test how the colors of your fabrics look together, and considering the other colors that will be in your quilt. I had this block almost complete, minus the red border, and decided that one of my original design elements was too vivid. I originally had a cloudy blue sky background behind the building, but the blue was just too bright. I ripped everything off and started from scratch. I'm glad I did—this turned out better than I had hoped!