You can be Tweedledee and battle Tweedledum yourself! This game is just like Noughts and Crosses (Tic-Tac-Toe). Click in the square you want, and Tweedledum will make his move.
After the game is over, click on the gameboard start a new game. If Tweedledum won the previous game, he will go first when you click on the gameboard.
Have fun!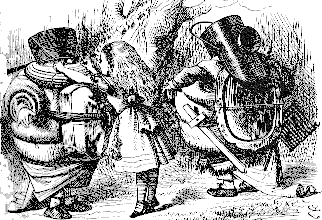 "We must have a bit of a fight, but I don't care about going on long," said Tweedledum. "What's the time now?"
Tweedledee looked at his watch, and said, "Half past four."
"Let's fight till six, and then have dinner," said Tweedledum.