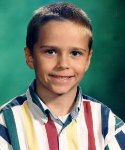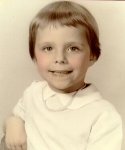 Hi! My name is Ruthann Logsdon Zaroff. I live in Belleville, Michigan, with my husband, my son, a big dog named Manda, and a gray cat named Midsummer Night's Dream ("Midi" for short!). The photographs above are of my son at about the time he first read the Alice books, and of me at about the time I first read them. We are both devoted Alice fans. (My son has his own web site, if you are interested – Teddy the Wonderboy.)
I have read the Alice books many times over the years. Every time I read them, I discover things I never noticed before. There is a richness and depth in the Alice books that I have never found elsewhere.
The character with whom I identify in the books is Alice, mostly because when I first read the books I was about as old as Alice was when she fell down the rabbit hole, and one of my older sisters used to read to me, just like Alice's sister read to her.
I own many copies of the Alice books; one is more than 100 years old! Many artists have created illustrations to accompany the books, but my favorites are by Sir John Tenniel, the artist that Lewis Carroll himself hired to illustrate them. (The pictures you see throughout my web site are by Tenniel.) Lewis Carroll illustrated his first handwritten version of Alice's Adventures in Wonderland (called Alice's Adventures Underground—a gift he made for the real Alice), but later realized that if his book were to become successful, he would have to hire an artist. Tenniel used Carroll's sketches as a basis for his work, but his Alice was drawn using a model rather than the real Alice.
Alice in Wonderland has always been my favorite book. It has everything a good book should have: interesting characters, great adventure, and puzzles. My son first read Alice in Wonderland when he was six years old. Now he is eight and recently read it again. He agrees that it gets better the more you read it!
If you have not yet read Alice's Adventures in Wonderland or Through the Looking-Glass, please do—I think you will love them!
---
If you want to learn more about Alice in Wonderland or Lewis Carroll (especially about what everything in the book means), I recommend the following books:
The Annotated Alice by Martin Gardner, published by Wings Books, 1960.
More Annotated Alice by Martin Gardner, published by Random House, 1990.
Alice in Wonderland by Lewis Carroll (Norton Critical Edition, Donald J. Gray, editor) published by W.W. Norton and Company, 1992.
Lewis Carroll: A Biography by Morton N. Cohen, published by Vintage Books, 1996.
You should also visit the Lewis Carroll Society of North America's web site, where you will find many scholarly works on Carroll and the Alice books, and much more. http://www.lewiscarroll.org/. I am a member of this organization, and find them a very valuable resource!